I went to some book sales today. At one, I'm sure a graphic designer donated a lot of books, most of which I bought. You know, I frequently buy whole collections that belonged to people I never knew.
I will romanticize said probable-designer for a long time, just like I have mental ideas about the owners of all of my stamped mid-century lit
crit
books (the most beautiful books I own), or the set of 25 or so Time Reading Program editions I bought all at once, or even all of the Ian Fleming pulps that we bought (they were all the same edition, 17
th
printing) and then sold because we got sick of Ian Fleming pulps.
For the moment, a few of my discoveries:
Lucas's

1960s Ukrainian Military Polar Exploration watch shown for scale
Two books from John Lewis's Reinhold series of Studio Paperbacks about art, one on Typography by Lewis himself and the other called
Graphic Design: visual comparisons
, both printed in 1964.
I plan to read the first, because I'm more and more revealing myself an amateur in type, more and more lusting for type, and more and more liking the idea of sounding like I know what I'm talking about when I talk about typography.
The latter I read, it's mostly pictures. They're paired based on similar "problems," and show that different, equally valuable solutions can be found from each advertising problem (blah blah blah). The picture above shows pages around the theme of emotion, the left being a Swiss
Müller

-

Brockmann
poster ("less noise," perhaps?), the right is
Saul Bass
's 1958 logo for
Bonjour
Tristesse
.
Graphic Design
is a little heavy on the
Fletcher
/
Forbes
/
Gill
designs, owing mostly to the fact that those three wrote the book.
But I found this part of the introduction poignant and cute, o fellow lovers of the beautiful and vain and graphic mundane:
The vast majority of advertisements, posters, television commercials, booklets and other printed matter clutter our environment and insult our intelligence.
And besides, they are so monumentally boring.
We've all said this! Admit it. We're snobs, we're well-meaning, beauty-loving snobs in every generation.
But--
There are, however, some designers and even clients who insist that the public deserve and will respond to much higher standards in graphics. They are convinced, as Charlie Chaplin was convinced, that the best way to entertain the public is first to entertain oneself.
Let's look at some of these designers, from the back covers of these books: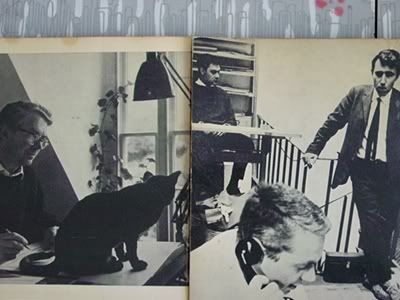 Left: Lewis. Right: Fletcher, Forbes, and Gill, though I don't know which is which.
Midcentury
designers: they're just like us! They have cats and houseplants, they answer phones and smoke cigarettes. And they look like Don Draper, and
prob'ly
get just as many ladies and have fabulous bachelor pads with really nice stereo consoles and
Eames
-y furniture and
Albers
prints. I was going to joke that the probably studied under
Albers
, but it turns out they did! Well, at least Alan Fletcher.
This is all to say that I'm in love with these men. I will pretend that whoever donated this lot of
midcentury
design books for my purchase was just like them. I will swoon about it.
Anyway, I picked up a few
Graphis

Annuals
('64-'65 and '65-'66) as well, and a similar Italian annual,
Pubblicita

in

Italia
1966-67. They are nice to have and nice to look at and generally very nice, except that I'm getting very, very tired of
Milton Glaser
/
Seymour

Chwast
/
Pushpin
-y 1960s rugged
figuralism
and
cartoonish
portraits and all that. But then again, these days I go to a museum and can hardly pay attention to anything that's actually even a picture of something. I'm a nonrepresentational kind of girl. Also, there's
so much of it
. Don't worry, though, I have a ton of Milton and Seymour and Pushpin, and I plan on scanning it all eventually.
But also, in the back of my mind I just wish that all of
Graphis

Annual
was books, skip the ads and posters and everything else. However, both
Graphis
editions feature Paul Rand's work for IBM (the packaging
here
being The One, but he did a lot more work with them that's out there).
Ughhgsdfhsldkjf
, is all I have to say, because
Paul Rand Typewriter Ribbon Packaging Design
would be like the design equivalent of what prisoners ask for for their last supper. Like, dear Warden, if I could have anything before I die it would be lobster on a truffle steak burger with my grandma's mashed
potatoes
and a side of
snozzberry
pie, except dear God if I could have anything before I die it would be a Paul Rand-designed early 1960s set of typewriter ribbons. You know? And then you find out such a thing really exists, and then
Graphis

Annual
won't stop taunting you with it, and you don't have it, so you just drool and cry all over
Graphis

Annual 1964
for the rest of your life.