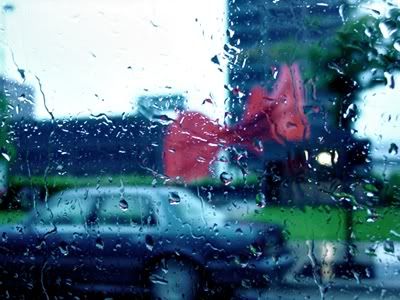 I went to Grand Rapids last night, this is the best I could get in a downpour driving by with the windows up. It's La

Grande

Vitesse

, and you can still feel its force even through this, right? Alexander Calder, one-and-only.

Here's how it looks in full:
It photographs beautifully at night, but the only pictures I have of that are with me in front of them. Which is tacky, of course.
Some information:
Grand Rapids Sculptures, La

Grande

Vitesse
Wikipedia
Some really excellent photos of it
Flickr
40

th

Anniversary information
I went to Grand Rapids this past summer for its anniversary--the exhibitions at Grand Rapids Art Museum were amazing, as well as
Fredrik

Meijer

Gardens and Sculpture Park
. If you're anywhere near the city, and you love you some
Sandy Calder
(which you should, if you love abstraction and design and life), you have to see this sculpture, and
GRAM
is phenomenal if you like Calder, Ellsworth Kelly,
Albers
,
et
cetera
. It's, I think, my favorite small museum I've ever visited just because its collection is so well aligned with my interests. And the
Meijer
Gardens don't disappoint, and they always have tons of
Calders
! Except they have way too much
Chihuly
. (Favorite Artist---Least Favorite Artist: Alexander Calder---Dale
Chihuly
). For the anniversary they had a love of the original studies and sketches, as well as a lot of his work, and newspaper clippings from the piece's installation in the 1960s (spoiler: Modern Art was Controversial!), and even memorabilia from its opening, like the cocktail napkins and invitations. Anyway, this sounds like a travel review or something, but I'm just Calder
Fangirling
. Calder 4
evr
! (Also, I have an impressive Calder book collection. I will share them someday.)