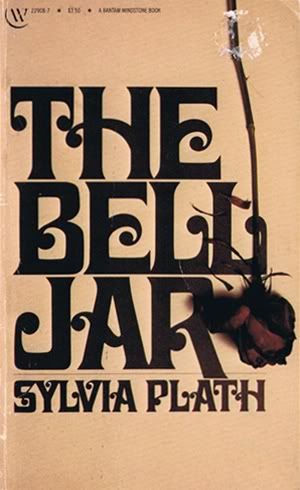 Just an '81 Bantam edition
I don't really like Sylvia's poems--not really even "Ariel," or "Lady Lazarus," or "Daddy" or any of the famous ones. I'm a 21 year old woman and I just read
The Bell Jar
. I've read
Catcher
7 times but I've only just read
the Bell Jar
. It's embarrassing--and here I'm publicizing it. It took me all these years to become the cliché I already was anyway, and, what do you know? I loved it to such a personal degree that I can't even really talk about it.
But her poems are too flowery--that is, too much about nature. They weren't too flowery in terms of words, no, I think she could have used a few more flowers. I don't like poems with too few words. I don't like poems with direct meaning. I don't like poems about plants. No classical timeless references, please.
( and I do mean you, too, Mr. Pound, that means no Latin whatsoever. I only like you in two lines:
The apparition of these faces in the crowd;
petals on a wet, black bough.
---no monolithic symbols & archetypes of death. No trees. Oddly enough, I wrote that from memory. I know, now, that it's "petals" but I wrote "pedals" at first. I'd much rather a poem about machinery than plantlife.)
But anyway, the words. I like poetry with good sounds, and so many words that every concept is completely abstract but also concretely specific, a combination of sense and forces that only one specific poet could ever have thought it. That's why I like Lester, Henry, T.S.
--Oh, T.S. You asked. "Doesn't he bullshit Latin? And reference Polonious? "Almost, at times, the Fool?" That business about Lazarus (Lazarus, always Lazarus, blah blah) and Heads on Platters?
Oh, right. Well. You'd think I wouldn't like T.S. Eliot. But first of all, I like rhymes. I don't like limerick but I like rhythm. I like:
Let us go, through certain half-deserted streets,
The muttering retreats
Of restless nights in one-night cheap hotels
And sawdust restaurants with oyster shells.
I like rhythm, especially in Modernist work, because it's like a way to add even more specificity to an ultra-specific thing, to describe it even more closely through its shape and sound and not just words. The specificity here lies not just in the words and their meanings, but a combination that transcends given meanings (I mean, what, really, is a sawdust restaurant?). And then, a composition that creates shape and sound, and that sound bears its own significance (tell me those words don't tumble out your teeth in the same formation that he stumbled down those streets. Tell me that rhythm isn't an adjective and a verb.)
That's why I don't love Syvlia's poems as much as her novel. Because they rely too heavily on the words and their universal meanings, instead of forging foreign meanings from taken-for-granted-English-words and then weighing the space in between them and around them, like T.S. did. There is no translation in good literature and good poetry. There is only convenyence of instant and atmosphere.
That makes sense, doesn't it? I collect all these thousands of books, but I never have time to read. But I love art, and book art is so much my favorite. I love art and design and non-figuralism because sometimes you need more than just the predetermined sets of symbols and meanings, more than a cache of recognized iconography. Sometimes the best way to say exactly specifically what you're trying to say is with a shape or lists of seemingly dischordant objects or the way words just sound on your tongue or the noise of something breaking on a breaking tape recorder. Or whatever. Is that formalism?
So for every "I am Lazarus, come from the dead,"
(Dying
Is an art, like everything else.
I do it exceptionally well)
there is
Shall I part my hair behind? Do I dare to eat a peach?
I shall wear white flannel trousers, and walk upon the beach.
Okay, okay, so it's a matter of taste--and yeah, I like rhymes. But you can never convince me that
Black sweet blood mouthfuls,
Shadows
is as original or interesting or capitivating or ultimately specific and thus completely human, completely intrinsically formalistically meaningful even though it could only have ever come from the brain of one Northern Irishman in the sixties, as:
Hey love, you forgot your glove
and the love that loves the love that loves the love that loves to love that loves to love to love that loves to love the glove
from "Madame George," by Van Morrison. And, to be fair, I've hardly transcribed it right. I don't think anyone has. (Listen
here
.)
And I can't take credit for writing about its significance--that credit goes to Lester Bangs himself (
here
). See him compare "Astral Weeks" to Lorca like I compare "Madame George" to Eliot. At the end of the day, I think I compare everything to "The Love Song of J. Alfred Prufrock."
That being said, I liked this one Sylvia poem a lot because it is juvenile and rhymes and is clustered with specific words.
(So sue me, I like wordy modernist beat-trash.)
It's called "Alicante Lullaby:"
In Alicante they bowl the barrels
Bumblingly over the nubs of the cobbles
Past the yellow-paella eateries,
Below the ramshackle back-alley balconies,
While the cocks and hens
In the roofgardens
Scuttle repose with crowns and cackles.

It's kind of like "Prufrock," it's muddled and noisy and full of
instant
and, to a degree, gesture. Moment and gesture and the meaning they carry, through their own form, is what I love and it's what I love in
The Bell Jar.
But there's not so much of it in "Lady Lazarus."
Ted Hughes said she used the Thesaurus too much. He was right, even though he meant it in the misogynistic my-woman-can't-make-poems-as-good-as-she-can-make-babies and aw-that's-cute-honey-tell-me-more-about-the-flowers-i'll-put-it-on-the-fridge kind of way.
But anyway, I enjoyed this one.
The more I write about how I don't really like Sylvia's poems, the more I kind of like Sylvia's poems. As above, "The Love Song of J. Alfred Prufrock" is my favorite poem, practically my favorite thing. I like everything I've said already, but I also really like literature that is self-conscious and uses the body as medium and expression ("I grow old, I grow old, I shall wear the bottoms of my trousers rolled" is, in fact, my all-time favorite line). I like gestures in literature (read: the spiritual meanings of holding ash trays in Salinger's works). I like "women's" stuff. I do. And I like books about the endless feeling of finity within infinity, like in "Prufrock," and projecting the great spiritual questions onto the mundane objects--the ashtrays, the peaches, the paperbacks and the body parts. This is all so, so,
Bell Jar
, especially the first half.
It's true that "Lady Lazarus" is a little heavy-handed. I admit I (somewhat unfairly) would say as much about any poem so bluntly about suicide. (And words like "annihilate" and "flesh" never help). But there are "Prufrock" moments in "Lazarus:"
The big strip tease.
Gentlemen, ladies
These are my hands
My knees.
and
A cake of soap,
A wedding ring,
A gold filling.
and I also like
Out of the ash
I rise with my red hair
And I eat men like air.

(Okay, so maybe that last one isn't so much "Prufrock" as it is just badass.)
So I am open to being convinced, I love to see "Prufrock" in other places. Maybe I will love Sylvia's poems.
And, reading it again, I do love
"Daddy."

Maybe someday I'll know why, but I'm not as good at reading poems as I am at understanding the design of books with poems in them. And, soon, I'll share some beautiful editions I have of T.S. Eliot and many more. But does this mean I shouldn't spend a gajillion dollars on that gorgeous first edition of
Ariel
?
Before I close, though, Wikipedia's page on
The Bell Jar
features the
original British edition
under her pseudonym, Victoria Lucas. Can we talk about how gorgeous an edition it is?
Do we know who designed it? Internet tells me it's a guy named Thomas Simmonds. A Flickr search introduced me to a new collector, user
Bellacquashua
, whose sets are beautiful and contain many things I also own and also many Alvin Lustig books I cry about not owning every day. OH PLEASE LET ME MAKE EVERY POST ABOUT ALVIN LUSTIG.
The works I talked about were:
Sylvia Plath's The Bell Jar, which was published in 1963 (but not in America until the early 70s)

Ezra Pound, "In a Station of the Metro," from 1913
Catcher in the Rye, JD 1951
Sylvia's "Ariel," "Lady Lazarus," "Daddy," all of which were published in Ariel in 1965
"The Love Song of J. Alfred Prufrock" by T.S. Eliot, 1915 or so
"Madame George" by Van Morrison, 1968
"Astral Weeks" by Lester Bangs, written in 1979 (and it's included in his anthology Psychotic Reactions and Carburetor Dung